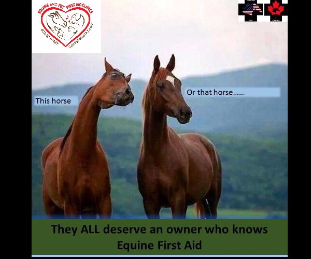 Host an Equine Health & First Aid Clinic
Do you want to become more educated about the health & wellbeing of your horse? Would you like to attend an Equine First Aid Clinic, but live too far away?
Well, you're in luck because we come to you! All you need to do is gather a few of your horse-y friends, & have 2-3 horses to work with. Clinics can range in size from as few as 6 to as many as 20, depending on where you are located.
Do you live remotely, or are you going to be doing some serious back country trail riding? Learn how to handle emergency situations when a vet is not immediately available.
Why is it important to know EQUINE FIRST AID? Because it may very well SAVE YOUR HORSE'S LIFE!! It's important to invest money in quality training & quality tack, but it's pointless if you don't know what to do in an emergency.
As a Host:
Receive a FREE Registration

Equine First Aid Manual or Booklet

3-Year Certification